More than 600,000 abortions per year in 4 European countries
The country with more abortions is France (224,000). England and Wales reached their highest figures. Germany and Spain increased the number of abortions below 2%.
Abortion laws vary greatly across the EU's 28 member states, from a complete ban, to allowing it only under certain conditions, putting legal restrictions on it, or letting women freely choose whether or not to have an abortion.
According to Eurostat, more than half of the EU's member states have experienced a gradual decline in abortions during the last decade.
In the case of the UK, France and Germany, which have the most abortions in absolute terms, figures have remained relatively stable, although in 2018 the numbers in England and Wales reached its highest level.
There have been 622,480 abortions in one year only in these four countries: Germany, England, France and Spain,
GERMANY: MORE THAN 100,000 ABORTIONS IN 2019
The Federal Statistical Office in Germany announced on March 3, that there 100,893 abortions were practiced in 2019. That is 0.1% less than in 2018 (100,986).
The data reveal that 72% of the abortions were of women between 18 and 34 years old, 18% of 35-39 years old, and 8% of 40 years and older. The proportion of those under the age of 18 was less than 3%.
Advice is mandatory in Germany before an abortion in accordance with Section 2018 of the Criminal Code. Women then receive a counseling certificate, which is a prerequisite for an abortion that is free of punishment in the first twelve weeks of pregnancy.
Last year, 96% of the reported abortions were carried out according to the counseling scheme, while medical and criminological indications were the reason in 4% of the cases. The abortions were mostly outpatient, only 18% were in hospitals.
In 2017, there were 101,209 abortions, in 2016: 98,721, and in 2015: 99,237.
ENGLAND AND WALES: ABORTIONS REACH RECORD LEVELS
According to the Office for National Statistics (ONS), 24% of the pregnancies of women resident in England and Wales resulted in a legal abortion in 2018, the highest percentage since records began three decades ago.
This was up from 22.7% in 2017,and it comes as the number of conceptions to women of all ages fell for a third year in a row.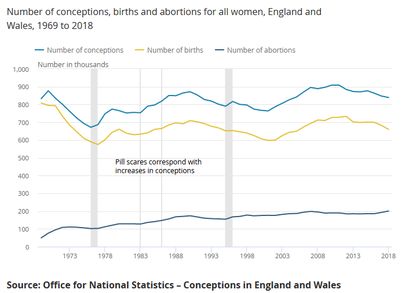 The ONS pointed out that there were 201,370 abortions. For the first time since 2013, the percentage of pregnancies leading to abortion increased for every age group.
The biggest rise was among 20 to 24-year-olds (up 1.8%) and the lowest was among under-16s (up 0.9%). The only age group to see an increase in conception was the over-40s, which rose for a third year in a row.
Additionally, abortion increased in all regions over the last decade. In 2018, the South West had the lowest percentage of conceptions leading to a legal abortion (21.6%), while London remained the region with the highest percentage o (27.1%).
FRANCE: 224,300 ABORTIONS IN ONE YEAR
France is one of the European countries where there are more abortions, with 224,300 carried out in 2018.
The increase in abortions has raised the total abortion rate, which now stands at 0.56 abortions per woman, but it remained below the levels of 2013 and 2014.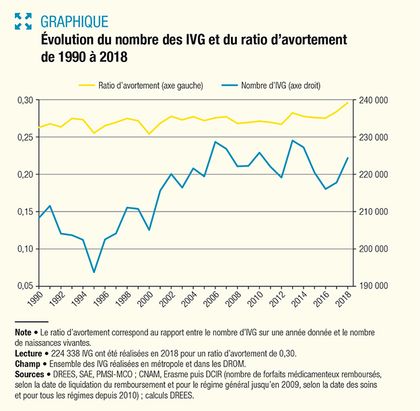 Most of the abortions (209,500) took place in metropolitan France. Those performed outside a hospital structure (25%) have grown, and the share of instrumental abortions continues to decrease and amounts to 40%, or 30% of the total.
Women aged 20 to 29 remain at the top of the list, with a rate of 27 abortions per 1,000 women across the country.
Last June, the French Senate backtracked on proposed changes to the country's abortion law, which included ton increase the legal delay in which it is possible for women to obtain an abortion, from 12 weeks to 14 weeks.
SPAIN: STABILISATION
In Spain, 95,917 women decided to have an abortion in 2018. A 1.91% more than in 2017, which shows a tendency towards stabilisation, after the approval of the new law in 2010.
There has also been a stagnation among those under 20 years who decided to voluntarily terminate their pregnancy in 2018, with just 73 more than in 2017.
Official data show that 90.44% of abortions were performed at the woman's request. 5.95% due to serious risk to the life or health of the pregnant woman, while a total of 3,187 did so due to serious abnormalities by the fetus.
According to the Spanish Ministry of health, the number of abortions continues to increase in public hospitals, with 13.95% in 2018. The rest were made in outpatient centers: 8.07% in public and 79.52% in private.
The majority of the abortions were among women aged 25-29 (20,876 ) and 20-24 (20,595). The lowest figures were among girls under 15 ( 310) and women over 44 (608).
---