New Direct Plantation Centre in Central Hotel Dublin!
The traitors of Remcoll Capital have forced yet another plantation on the Irish people in the name of international finance capital and Anti Irish globalism.
A new direct provision centre has been opened in the Central Hotel, on Exchequer Street, in Dublin city centre. The stated aim of the use of what is a substantial hotel building is "to ensure asylum seekers can follow social distancing measures to combat Covid-19."
"It is a big step forward in one way," a local observer, who preferred not to be named told Hot Press. "But you still have to question the principle of the whole thing. There is no way of doing 'direct provision' that is politically acceptable. Covid-19 has highlighted that."
According to a story that appeared on the times.co.uk website, the Exchequer Accommodation Centre in the Central Hotel is being operated by Remcoll Capital, who are also behind the direct provision centres in Ballinamore and Cahersiveen – the latter of which has been the subject of considerable controversy this week.
There were angry scenes at the Cahersiveen centre yesterday, as residents stood inside a locked gate and put placards up demanding that the centre should be closed. Hot Press understands that some of the Cahersiveen direct provision residents have been transferred to Dublin.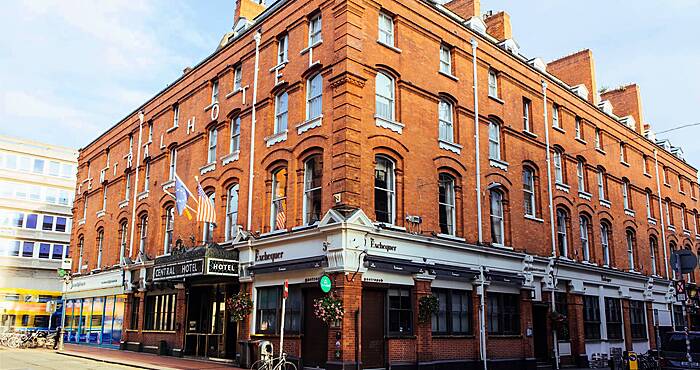 According to the Times report, Remcoll had begun "moving refugees from across the country to the vacant hotel on Exchequer Street" – which is just off Sth. Great George's Street. Over the years, Hot Press has conducted many interviews in the Library Bar, on the first floor of the Central Hotel. The building is also home to the Exchequer Wine Bar, a very popular restaurant serving excellent food, which has a buzzing sister establishment in Ranelagh. Both restaurants are, of course, currently closed as a result of Covid-19 restrictions.
"The events of the past few days have highlighted just how inappropriate the direct provision system is," one source involved in the system conceded. "Everyone is under huge stress at the moment, and we are all being asked to endure circumstances which are extremely difficult. But it is different when you have to effectively lock people indoors, as happened in Cahersiveen. That is just completely unacceptable.
"The government needs to move very quickly to end a system which produces results like that."
---