NI Going Into Full Lockdown After Christmas
NI is being forced into lockdown for 6 weeks meaning even more devastation for families and businesses destroyed by economic hardship and the destruction of our freedoms.
The Occupied 6 Counties along with Britain will be forced into a draconian lockdown from Boxing Day with all non-essential services and businesses forced to close. When will the absurdity end? Western economies will be destroyed leaving us powerless and defenceless, our people will be forced into poverty while Big Business rakes in even more profits.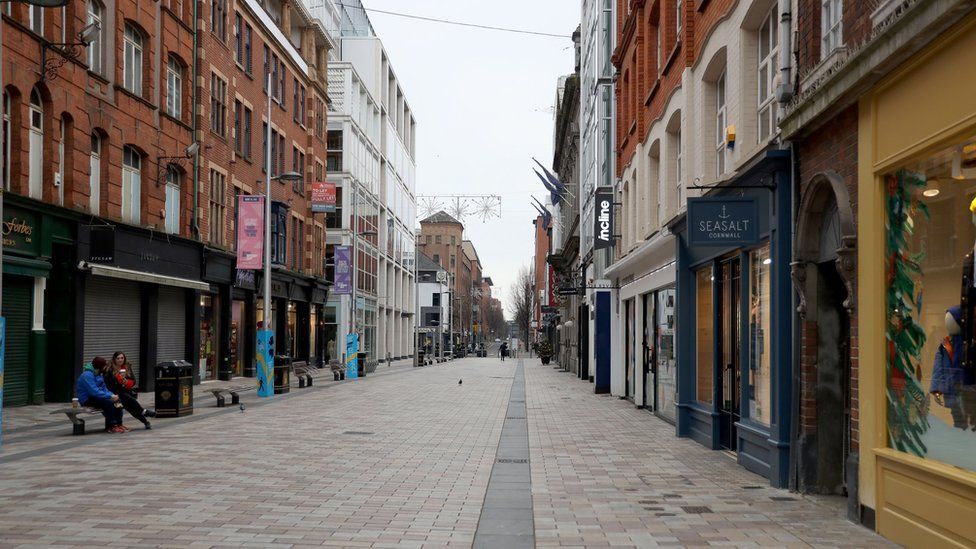 The new restrictions will begin on 26 December with non-essential shops closing after Christmas Eve.
Even tighter restrictions will be in place for a week from Boxing Day as shops must close and no gatherings are permitted between 20:00 GMT and 06:00.
Mr Swann said the measures were being brought in "with a heavy heart".
He said he was "very mindful" of the affect the last year has had on lives and livelihoods.
"We are in, large part, returning to the sustained lockdown introduced in March," he said.
"Once again, a heavy responsibility will rest on all of us to remain at home as much as possible over the course of the six-week period."
The reproduction number is currently 1 to 1.2 but there are fears it could rise to between 1.4 and 1.8 over Christmas.
Northern Ireland's chief scientific adviser Professor Ian Young told BBC Radio Foyle that without a lockdown, the number of deaths and hospital admissions would have been "severe".
"While there will be huge pressures on the hospital system in January it should allow our colleagues to cope."
He added: "There is no doubt that if you allow the epidemic to proceed in an uncontrolled way, you allow everybody if they choose to live their lives completely as normal with a dangerous virus in circulation, then inevitably there will be very severe consequences and many, many deaths."
The restrictions for the six-week period include:
Closure of hospitality and non-essential retail with a stricter demarcation between essential and non-essential retail than that deployed during the recent circuit breaker.
Click-and-collect retail will not be permitted, and homeware will not be categorised as essential retail.
Off sales (including from bars) will be permitted from 08:00 on Monday to Saturday, and from 10:00 on Sunday, until 20:00 on any day.
Hospitality businesses will only be allowed to offer takeaway and delivery food.
Closure of close-contact businesses.
Places of worship can remain open under strict conditions.
MoT centres are expected to stay open.
Clarification is to be given on where vehicles can be washed ahead of MoT.
Tradespeople are expected to be allowed into homes for essential maintenance.
Childcare bubbles will continue.
Formal shielding will not resume, but "stronger advice" will be issued.
In addition, there will be a one-week period of additional restrictions from 26 December to 2 January. Between 20:00 and 06:00 during this period:
All businesses must close between these hours.
No indoor or outdoor gatherings of any kind will be permitted after 20:00 and before 06:00, including at sporting venues.
Outdoor exercise will be permitted only with members of your own household.
No household mixing will be permitted in private gardens or indoors in any setting between these times, except for emergencies or the provision of health or care services or where households have chosen to form a Christmas bubble for a period of time between 23 to 27 December with provision for travel a day either side when absolutely necessary.